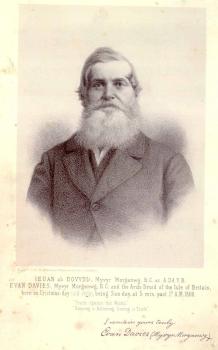 Evan Davies (Myfyr Morganwg, 1801-88), a clock-maker from Pontypridd who claimed the title 'Archdruid of Wales' following the death of
Taliesin ab Iolo.
He developed Iolo Morganwg's bardo-druidic theories by utilizing esoteric far-Eastern belief-systems fashionable at his time. His numerous contributions to Welsh periodicals invited controversy and accusations of paganism, as did the
Rocking-stone Gorseddau
he assembled more than once a year between 1848 and his death.