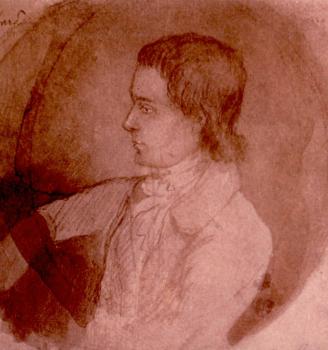 David Thomas was a schoolmaster and poet from Waunfawr, near Caernarfon. He was responsible for establishing several literary societies in the area to train local poets in the niceties of strict-metre verse: Gutyn Peris, Gwilym Peris, Hywel Eryri, Gwyndaf Eryri, Owain Gwyrfai and Siôn Lleyn. His poetry, along with that of his apprentices, was published in
Corph y Gaingc
(1810). Thomas was a corresponding member of the
Gwyneddigion
and he assisted
Owen Jones (Owain Myfyr)
,
William Owen Pughe
and Iolo Morganwg in collecting and transcribing manuscript material for
The Myvyrian Archaiology of Wales
(1801-7).
Thomas gained some success as a competitor in the eisteddfodau which the Gwyneddigion organized (1790, 1791), but he was essentially a conservative and found the radical leaning of the society and its members unpalatable. He also believed that expatriate Welshmen interfered too heavily in the native Welsh culture. His response was possibly selfish and defensive, but by begrudging the Gwyneddigion their prominent role in Welsh eisteddfodic matters he was, at least in this instance, in agreement with Iolo Morganwg.
Dafydd Ddu Eryri was invested as a Bard by Iolo in a Gorsedd meeting held on Dinorwig Hill in October 1799. Nonetheless, he was among the first to cast doubt on the authenticity of bardism, Dosbarth Morganwg (The Glamorgan Classification) and Coelbren y Beirdd, the bardic alphabet which Iolo had devised. The slavish adherence of some members of the Gwyneddigion Society to Iolo's innovations lay at the heart of his decision to turn his back on the society. This is how he satirized Iolo in verse:
Un Iolo cyn elor, a'i lonaid o linor,
Un ffug a belphegor, croes begor, cras bach;
Tywysog anhydyn, aneddau'r anoddyn,
Ni fedd ef un iolyn anwylach.

Mae'n waradwydd in' bellach ag ef wneyd cyfeillach;
Ond bwriwn heb eiriach bryf afiach o'n bro;
Pen-ceidwad y dyfnder a'i cymer ar fyrder,
I waelod ei seler i silio.

. . .

Gaer annwfn sy'n crynu, mae'r diawliaid yn credu,
Ond eto'n rhyfygu i bechu'n ddi baid;
Yn dilyn ffordd ben-gam ar argais mor ŵyrgam,
Dau waeth yw Ned William na'r diawliaid.

(One Iolo before he is laid on a bier, covered in pimples,
False like Belphegor, a surly, impudent little dwarf;
The perverse prince of the habitations of hell
Does not own another more cherished blockhead!
It's a disgrace for us henceforth to sustain a friendship with him,
Let us rather drive the sickly maggot from our land;
The chief guardian of the deep will take him anon
To spawn at the bottom of his cellar!
. . .
The devils believe that the fortress of hell is shaking,
But yet dare to sin without cessation,
Earnestly following a crooked road, so perverted;
Ned Williams is twice as bad as the devils!)
(NLW 21282E, no. 440, Thomas Roberts to Iolo Morganwg, 25 June 1805)