"These letters offer a human face, warts and all, to the man, as well as constituting an invaluable part of his literary and historical legacy"
(Geraint H. Jenkins, RG, p. 7)
From 1770 until his death in 1826 Iolo was a regular correspondent and about 1400 letters survive in his archive, about a third of which (some 430 letters) are in his own hand.
The majority of the letters are written in English, and only about 6% are in Welsh or contain an element of Welsh. On the whole, these Welsh letters belong to the 1770s and 1780s when Iolo was in touch with the poets of Glamorgan and members of the London-based Gwyneddigion Society. This exciting period in his bardic apprenticeship is perfectly encapsulated by the Welsh letters from Siencin Morgan of Llantrisant in 1771 and Owen Jones (Owain Myfyr) of London, in 1782.
Because of the sheer volume of letters that were circulated both privately and publicly in printed volumes and magazines, the historian Jürgen Habermas characterized the eighteenth century as 'the century of the letter'. The letter could be used to disseminate a message effectively, and so its influence and economic value were considerable. Iolo was aware of this. He made numerous contributions to the periodical press in both Welsh and English and towards the end of his life he even dreamed of seeing a selection of his own letters appear in print.
Iolo Morganwg's letters are kept in six substantial volumes in the National Library of Wales: NLW 21280E-21286E. Additional letters are also kept in other collections housed at various locations: the National Library of Wales, Cardiff Central Library, Glamorgan Record Office, the British Library, the Bodleian Library Oxford and the National Record Office. The following magazines also include letters in his hand: The Cambrian, The Cambrian Register, Yr Eurgrawn Wesleyaidd, The Gentleman's Magazine and Seren Gomer.
Like the Morris and Trevecka correspondences, Iolo Morganwg's letters are amongst the most valuable resources for students of the cultural history of eighteenth-century Wales. But the range of subjects discussed in his letters and the sheer diversity of the people he corresponded with mean that Iolo's collection of letters is the most varied and fresh. A prodigious writer, Iolo filled every corner of his paper and also wrote on any piece of paper that came to hand, for example, on flyers and printed advertisements.
In terms of subject matter, Iolo's letters enable us to trace him in his many guises: independent craftsman, enlightened thinker, Romantic Bard and committed political and religious radical. They also reveal his (often trenchant) views on a breathtaking array of subjects: Welsh poetic metres, the Welsh bardic tradition, local antiquities, folk lore, music, geography, agricultural practices, religion, industrial developments, longevity, and the pitiful situation of the poor in his parish.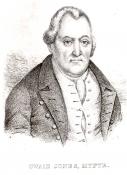 With regard to people, Iolo's letters throw valuable light on several circles or networks. He was an accomplished, if not always conscienscious, letter-writer and knew instinctively how to satisfy the expectations of his reader. His letters therefore give us a very clear portrait of the public man and the way in which he used his correspondence carefully to shape his public image. The letters allow the reader to chart Iolo's interaction with others: they show how he cultivated links, exchanged ideas and exerted an influence on his correspondents. Furthermore, they reveal his amazing ability to alienate friends and acquaintances. For example, the series of letters between 1799 and 1806 chart the lack of trust and bitterness that Iolo and Owen Jones developed towards one another, despite the diplomatic conciliatory attempts of William Owen Pughe.
The correspondence portrays the private man as well as the public figure. It provides a window to his varied career as a stone mason, shop-keeper, farmer and antiquary, and to the trials and tribulations of his family.
Their trade as stone masons and their fortunes in Jamaica are the main focus of the letters between Iolo and his brothers. Iolo considered slavery anathema - 'a most horrid traffick in human blood' - and he was thoroughly committed to its abolition. Disappointed and shamed by the fact that his brothers owned slaves, Iolo did not refrain from berating them for this in his letters. When his brothers bequeathed him a small fortune, Iolo faced a painful moral challenge: should he accept this tainted money or not? With the world and his debts closing in on him, accepting the legacy was, in the long run, no more than a practical decision. See NLW 21387E, no. 8; NLW 21285E, Letter 862, Iolo Morganwg at Miss Barker, 26 March 1798.
A small body of letters survive between Iolo and his wife Margaret (Peggy), between February 1791 and June 1795.
During this period he was in London overseeing the publication of his volume of English poetry,
Poems, Lyric and Pastoral (1794)
while Margaret remained in Glamorgan, raising their four small children and caring for her elderly and infirm father-in-law. In these letters, one sympathises with Margaret's fragile situation as a wife and mother left to fend for her family without the economic and emotional support of her husband. In her letters she constantly complains about the family's hardship and poverty. In this example, we hear the most heartrending of her complaints: 'I know not how to find bread for your children another week'.
The extended correspondence between Iolo and his son Taliesin is an interesting mirror to their relationship. Taliesin idolized his father and in their letters they discussed education, poetry, Bardism and proper gorsedd ceremonial. Iolo moulded Taliesin to be the mediator of his message and vision, but ironically, Taliesin never suspected that much of his father's bardic vision was based on fantasy and that much of its corroborating manuscript material were Iolo's literary forgeries.
Iolo emerges as a contentious and angry figure in his correspondence with those and about those whom he deemed enemies. However, none of this bitterness is evident in his gentle engagement with, and obvious delight, in his grandchildren.
At the beginning of his career, Iolo corresponded with the poets of the uplands of Glamorgan: Siôn/John Bradford, Wiliam Dafydd, Siencin Morgan, Josiah Rees, Iaco Twrbil (James Turberville). From these letters, it is clear that the poets of Glamorgan played a role in the wider cultural awakening of the eighteenth century in Wales. Two of Glamorgan's scholars were also an important formative influence on Iolo:
John Walters
of Llandough and
Thomas Richards
of Coychurch.
Many well-known literary Welshmen feature in Iolo Morganwg's correpondence: Walter Davies (Gwallter Mechain), John Edwards (Siôn Ceiriog), John Jones (Glan-y-gors), Owen Jones (Owain Myfyr), William Owen Pughe, David Samwell (Dafydd Ddu Feddyg) and David Thomas (Dafydd Ddu Eryri).
In these letters, especially those which he exchanged with the London-Welsh, we glimpse the enthusiasm and dynamism of the Gwyneddigion Society (est. 1770) as it continued with the ambitious cultural agenda of its forerunner, the Honourable Society of Cymmrodorion (est. 1751). Iolo contributed genuine and forged material alike to the society's publications: the infamous 'Additional' poems of
Barddoniaeth Dafydd ab Gwilym
(1789), and more diverse material for
The Myvyrian Archaiology of Wales
(1801-07) and
Y Greal
(1805-07), the short-lived magazine edited by William Owen Pughe.
The Gwyneddigion nurtured Iolo's Welsh patriotism and cultivated his confidence as a young poet, but also it was their dismissive attitude towards the cultural attainments of south Wales which sharpened Iolo's sensitive regionalism. In his dealings with them we see the beginnings of the transformation of the love he felt for Glamorgan into an uncompromising hatred towards the inhabitants of north Wales in general.
In London, while steering
Poems, Lyric and Pastoral
(1794) through the press, the office of the Unitarian and radical publisher Joseph Johnson was an important point of contact for Iolo. Since he dealt with Johnson face to face, only one letter to him has survived in the Llanover collection: NLW 21286E, Letter no. 1017, Iolo Morganwg to Joseph Johnson, 1 September 1795. Through this gracious man Iolo came into contact with radicals and Unitarians alike: John Aikin, Rev. Rochemont Barbauld, Anna Laetitia Barbauld, John Disney, George Dyer and William Godwin. Many of the women who feature in his correspondence and who subscribed to his poems were Bluestockings or Rational Dissenters and so in his letters to them, he used the formulas of the dashionable cult of sensibility: Anna Laetitia Barbauld, Mary Barker, Henrietta Bowdler, Lady Elizabeth Brown Greenly, Elizabeth Monatagu and her sister Sarah Scott, Hannah More, Hester Thrale Piozzi, Anna Seward, and Ann Yearsley. The letters that belong to the 1790s, especially those to John Walters and Margaret Williams his wife, give a colourful picture of Iolo as a Welsh Jacobin who despised 'Church and Kingism'. They also reveal Iolo's direct response to the exciting contemporary political climate.
1819 was a turning point in the history of the Gorsedd. In the eisteddfod organized in that year by the Dyfed Cambrian Society, Iolo held a Gorsedd ceremony as an integral part of the celebrations and a pattern was established for the host of regional eisteddfodau that were later organized. This development escalates in the letters that belong to the last years of Iolo's life, and amongst the literary minded parsons associated with the development of the regional eisteddfodau and Gorseddau are Walter Davies (Gwallter Mechain), John Jenkins (Ifor Ceri), W. J. Rees Casgob and Thomas Price (Carnhuanawc). It becomes clear that these were highly serendipitous links when one considers the later role that Thomas Price, the Abergavenny Cambrian Society and Lady Llanover would play in the popularization of Bardism and in the elevation of the Gorsedd to truly national status. This circle also supported Iolo's plan to publish
Cyfrinach y Beirdd
(1829).
NLW 21286E, Letter 998, Iolo Morganwg to Taliesin Williams, 30 May 1826