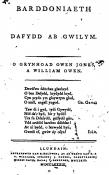 This volume, edited by Owen Jones and William Owen Pughe, was published by the Gwyneddigion Society in 1789. Their edition of Dafydd ap Gwilym's poetry proved highly influential but they were both unaware that the poems printed in the appendix (the now infamous 'Ychwanegiad') were forgeries composed by Iolo. However, their suspicions were later aroused by David Thomas (Dafydd Ddu Eryri) and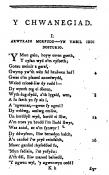 the matter contributed towards the ill-feeling which developed between Iolo, Jones and Pughe.
Iolo first became interested in the poetry of the famous fourteenth-century poet during his visits to London in the early 1770s when he had the opportunity to leaf through the collections made by Lewis Morris and his brother William. Iolo's forgeries stake Glamorgan's claim to the canonical bard, and provide an early indication of the significant rôle which Glamorgan and Dafydd ap Gwilym would play in Bardism and, indeed, in Iolo's own bardic persona. The poems Iolo attributed to Dafydd ap Gwilym were vital in shaping the contemporary romantic mindset.