Iolo possessed an entrepreneurial spirit:
he
farmed
for a brief period around 1783 and ran a sloop named
The Lion
which sailed between Glamorgan and Bristol. He also sold tea, coffee and chocolate in the parish of
St Mary Church
shortly after his marriage in 1781.
Following the publication of
Poems, Lyric and Pastoral
(1794), Iolo returned from London in 1795 and opened a bookshop and a grocer's in Cowbridge. Many of the goods which he sold in his shop came from Bristol.
In old age, Iolo regaled
Elijah Waring
with stories of his career and these later formed the basis of his
posthumous public image
. In these stories, we see Iolo seeking to remain true to his political ideals by politicizing his trade. For example, he claimed that he advertised sugar that had not been processed by slaves and also that he had once tricked some government spies (
'The Story of Sugar'
, below).
Iolo composed a
poem advertising his shop
and his principles:
At Cowbridge the name of Ned Wiliams appears,
A shop-keeping Bard, having choicest of wares,
To those that have money be this understood,
Ring the Bell at his door, he sells ev'ry thing good.

. . .

Here are currant and raisins, delicious french plumbs,
The Christian free sugar from East India comes,
And brought from where Truth is not yet in the bud,
rank Church-and-king-sweets for the lovers of blood.

Here to furnish high flavours are all sorts of spice
Of Liberty's growth, fine American Rice,
All that makes a good pudding, or well-season'd pye,
May be found at this shop do but taste them and try.

(LlGC 21410E, no. 29a)
In 1926 a memorial to Iolo Morganwg was placed at the site of his shop to mark the
centenary
of his death.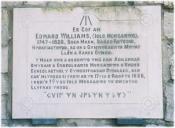 '
A Story of Sugar
'
When Edward Williams returned to settle in his native Principality, he was too deeply imbued with a love of literature, for confinement to merely mechanical pursuits; and though he had acquired a respectable proficiency in ornamental sculpture, by which he exercised his taste whilst occupying his original calling, he found the fine dust arising from the chisel as he worked, very injurious to his lungs, and naturally coveted some more congenial means of providing for his family. In the year 1797 he opened a shop in Cowbridge, where he sold books, stationery, and groceries: among the latter he introduced East Indian sugar, because it was the produce of free labour, and he wished to promote every measure that could tend to discourage the slave trade and its atrocities. This commodity was thus announced by a paper exhibited in his window, "
East India Sweets, uncontaminated with human gore
". This description of sugar is now very extensively used, and perhaps no considerable town in the kingdom is without a grocer who sells it: but at that time "The Bard of Liberty" was, in all probability, the first and only vendor of free-labour sugar in Wales.
An amusing incident occurred in this shop, which has often been repeated amongst his acquaintances. He was aware that two persons named Rich and Curtis, then resident in Cowbridge, were employing themselves as spies upon his proceedings, anxious to implicate him in some political or theological misdemeanour, and he was inclined to tantalize their appetite for such discoveries. He therefore placed among the book in his window, one labelled "THE RIGHTS OF MAN", and the offensive title was speedily descried by these political hawks, one of whom instantly pounced upon the devoted volume, by entering the shop, asking for the book, and paying for it. On receiving it into his hands, he turned with an air of triumph to his companion who had followed him, when on opening the leaves, his eye caught the double columns, chapters, and verses - not of a proscribed political work, but of THE BIBLE! His countenance fell, and turning to the bookseller he upbraided him as a cheat, demanding the return of his money. "No sir," replied the Bard, "I am no cheat - you will find in that book the best and dearest RIGHTS OF MAN - and I am glad of the opportunity which has put the Bible into
your
hands, for once in your life." The brace of spies walked off in no very complacent mood, and everybody who learnt the story enjoyed their mortification.
Elijah Waring, Recollections and Anecdotes of Edward Williams (London, 1850), pp. 107-9.