This is the village most associated with Iolo Morganwg. This is where he made his home, where he raised his children, where he dreamed of Glamorgan's Romantic and druidic past, and where he composed many of his letters, poems, essays and literary forgeries. Indeed, letters were sometimes addressed to him at the 'Bardic Lodge, Flimston'. His home stood on the site of present-day 'Gregory Farm' and a rough sketch of Iolo's cottage (in his own hand) survives.
Local tradition has it that a small statue (left) on the gable end of a house near where Iolo's cottage stood is a self-portrait. By 1815 Iolo complained that his cottage was in a pitiful state: '(it) is now in a ruinous state uninhabited and uninhabitable' (NLW 21410E).
After his death, his daughter Margaret (Peggy) composed a sentimental
English poem
describing her father's dilapidated cottage. According to the testimony of Mary Williams (wife of
Taliesin Williams)
in 1846, Iolo was buried inside the church (NLW 21277E, no. 854).
A memorial to Iolo and his son Taliesin is seen on a wall inside the church, and a stained-glass window dedicated to Taliesin's son, Edward Williams, is also visible there.
A Poem by Margaret (Peggy), Iolo's daughter, to Flemingston and her father's dilapidated cottage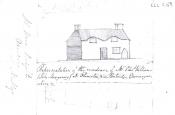 How can I view my once lov'd home
And think in days gone by
Think on the happy hours I spent
Without a heavy sigh
Twas there I spent my infant days
And all my youthful years
But flimston now alas to me
A foreign land appears
Where is that charming hazel bower
Where oft I sat me down
'Tis all destroy'd the spot alas
To me is now unknown
There oft I sat with heartfelt joy
(30b)
To view the flowery mead
The sturdy oak the verdant fields
In spring's first bloom array'd
There oft I heard the feather'd train
In sweet harmonious song
Whilst hopping on from spray to spray
Their Maker's praise prolong
Whenc'ere I view the verdant fields
And gently purling stream
Not present but past pleasures now
Must be my joyless theme
I sought the winding path in vain
(31)
That led me to the bower
Where I a stranger quite to care
Spent many a happy hour
Within my Father's garden now
I seek alas in vain
The flowering shrubs that fenc'd it round
Not one of them remain
Where's now my Father's humble cot
Where I so oft enjoy'd
Sweet converse with my parents dear
Tis now alas destroy'd
Dear flimston fare thee well adieu
(31b)
Since all I lov'd in thee
Are borne off on the stream of time
Thou hast no charm for me
One wish I feel and only one
One boon I humbly crave
That I may be when life's no more
Laid in my Father's grave.
NLW 21377B, pp. 30-1