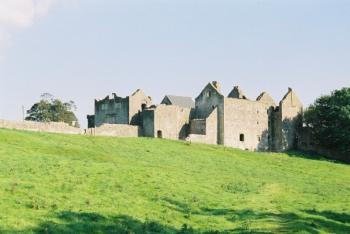 Beaupré Castle, near Flemingston, was the seat of the Bassets of Glamorgan. It was built in 1586 by Richard Basset. During the civil wars the Bassets were ardent supporters of the king and, as a result, they suffered large losses and their home had long been vacated by Iolo's time.
In Iolo's Romantic vision of Glamorgan, Beaupré Castle, like many other locations, was totally transformed. He wove a romantic tale about the elegant porch at Beaupré
which focused on the Twrch brothers of south Wales and their love for the same girl. To Iolo, they were an example of the native genius of Glamorgan, and he claimed that it was the Twrch brothers, rather than Inigo Jones (who was connected with north Wales), who introduced classical architecture to Wales. See
Iolo Morganwg's letter to Richard Hoare, 17 August 1797
.
According to Iolo, Beaupré Castle was the location of one of the most significant events in the history of bardism: the eisteddfod allegedly held there during Whitsun 1681. This, he claimed, was one of the most important eisteddfodau of the bardic tradition. He claimed that
Dosbarth Morgannwg (the Glamorgan Classification)
, the metrical system which he eventually published in
Cyfrinach Beirdd Ynys Prydain
(1829), was confirmed there. Iolo claimed that Edward Dafydd and his disciple Dafydd o'r Nant had led the eisteddfod. There was a kernel of truth to his druidic fantasies because he knew that Edward Dafydd, one of the last professional bards to live by his craft, was among the bards patronized by the Bassets of Beaupré.